Purpose-built boarding cattery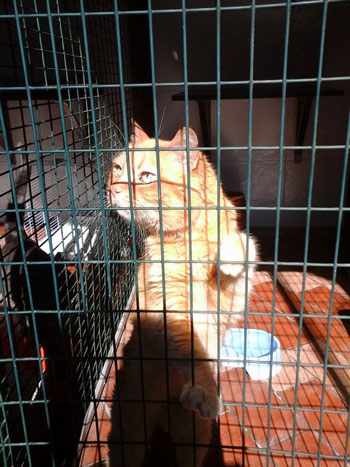 Our purpose-built cattery is very peaceful, inside a charming garden that is totally fenced and secure. All our spacious accomodation is of a size suitable for single cats or families of cats.
We have a wide variety of best quality tinned and dry feeds ( Iams, Royal Canin, Gourmet, Whiskas, Petreet, Almo Nature ecc.) to satisfy even the most demanding and sophisticated cats. We are accustomed to fussy eaters and so we are perfectly happy to feed your cat in accordance with your instructions!
Cats always have clean, fresh water available and this is checked and changed regularly.
It is highly advisable to bring in your cat's favourite bedding or toys in order to provide them with a little familiarity and stop them getting too stressed by the change in surroundings. Most cats get used to their new surroundings fairly quickly, but familiar items and smells always help cats settle in better.
Unless you instruct us otherwise, we regularly brush and groom cats while they are with us, so if you have a specific brush, glove or comb that you use for grooming, it is a good idea to bring it when you leave your cat with us.
We supply our own litter boxes but if you wish you can bring your own.
All vaccinations must be updated and a specific defleaing treatment is required for all cats staying with us, so please bring your cat's health card showing up to date vaccinations.
Our main aim is to offer your pets a comfortable stay allowing you to relax in the knowledge that your cat is in safe hands. We would be delighted if you came to visit us, but it's always a good idea to telephone us first so we know when to expect you.
KENNELS AND CATTERY OPENING HOURS
From October to May
Monday to Saturday: from 9.00am - 12.00am and 15.00pm - 19.00pm
Sundays - only for owners taking or collecting pets: 9am - 9.30am
From June to September
Open every day (Sundays included): from 9.00am - 12.00am and 15.00pm - 19.00pm
Tel. 0331 419130 - Cell: 345 310 1639