Little Dog Kennels and Cattery
Our kennels and cattery are conveniently close to Milan, only a 3-4 minute drive from the A8 autostrada which runs from Milan towards Malpensa, Varese and Lago Maggiore. If you do not have a GPS navigator, the instructions below should help you to find us. Unfortunately, Google maps do not show our correct location. If you'd like to see where we are, THIS MAP is correct!
From Milano / Como / Malpensa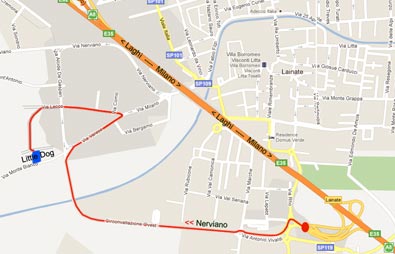 Take the Autostrada A8 Milano-Laghi (Direction Lainate/Varese/Laghi from Milan, Direction Milan from anywhere else)
Take the autostrada exit for Lainate.
Immediately after you leave the autostrada, you arrive at a roundabout. Take the 3rd exit (left).
Take the first exit (right) at the next roundabout (almost immediately after the first)
100 metres after, at the next roundabout, go straight on.
Follow this road. There is a petrol station on your right. After this, the road bears right and crosses a small bridge.
After the bridge the road bears right again. Follow the road and get in the left lane. Take the first turn on your left, called Via Como.
Follow Via Como until you reach a crossroads. At the crossroads, go straight ahead. You are now in Via Lecco.
Follow this short road until it seems to end. In front of you is a small unmade road. Follow this road round to the left. Drive slowly.
At the end of the road there is a small junction. Turn left. Our entrance is on your right after about 10 metres. Ring the bell.
If you get lost, please telephone us for help!
KENNELS AND CATTERY OPENING HOURS
From October to May
Monday to Saturday: from 9.00am - 12.00am and 15.00pm - 19.00pm
Sundays - only for owners taking or collecting pets: 9am - 9.30am
From June to September
Open every day (Sundays included): from 9.00am - 12.00am and 15.00pm - 19.00pm
We welcome visits and inspections, but appointments must be made in advance by telephone.
Tel. 0331 419130 - Cell: 345 310 1639